The American 1 oz Gold Eagle is the top bullion investment coin for those looking for a trusted asset for a secure financial future. Each $50 face value gold coin is issued with one troy ounce of pure gold with small amounts of silver and copper to provide strength and color.
This year, the coins are produced at the West Point Mint.
2023 1 oz Gold American Eagle Design
The Gold Eagle improves on the famous Saint-Gaudens design by employing modern artists to incorporate subtle security features into the details as a deterrent to potential counterfeiting.
In the design, Lady Liberty is shown walking forwards with the sun radiating behind her from below the horizon. Her long gown flowing around her legs and feet. She carries and olive branch in her left hand, extended as an offering of peace. Her right hand hold up the torch, which symbolizes the guiding light of freedom, liberty and enlightenment.
This year, the coin features the Type-2 design, which showcases a close-up portrait of the head of a noble bald eagle. The design comes from the Artistic Infusion Program (AIP) designer Jennie Norris which is then sculpted into dies by Medallic Artist Renata Gordon.
The bald eagle is a large bird of prey that is native to North America. It was chosen to represent the nation as symbol of strength, freedom and fearlessness that are embodied by the bird.
The American Eagle 1 oz Gold coin is the most popular among investors that expect the most trusted, credible and reliable store of value that can help hedge the ongoing inflation.
1 oz Gold 2023 American Eagle Highlights:
Minted with a 22k gold alloy with one full troy ounce of pure gold.
Legal Tender with nominal face value of $50 USD.
Obverse: Updated adaptation of the Saint-Gaudens' Double Eagle design. Lady Liberty walking confidently with rays from the sun shining behind her.
Reverse: Type-2 reverse, featuring the head of a bald eagle, the national mascot.
Guaranteed by the U.S. Mint.
2023 Gold Eagle Minting Information
The American Eagle series is minted based on sales demand of investors. The monthly sales reports from the mint are showing indications that this could be the strongest year for sales.
Current year American Eagle gold coins are produced exclusively at the West Point Mint, a secure manufacturing and vaulting facility located near the Military Academy along the Hudson River roughly 65 miles north of New York City.
The US Mint charges a premium to wholesalers at 3% over the LBMA price to cover minting, marketing and distribution expenses. At the retail level, premiums vary based on dealer inventory and sales demand.
Typically, it is common to find dealer premiums for current year 1 oz gold eagles trading in the range from 6% to 10% above the current spot gold price. Premium can drop to as low as 4% depending on inventory and market conditions.
The pandemic, high inflation and other economic concerns are all major contributors to the increase in demand for gold bullion coins. Even with gold prices fluctuating, dealer premiums for eagles have remained relatively level.
American Eagle Heritage
The American Eagle coin series was created from the passage of the Gold Bullion Coin Act, which Ronald Reagan signed into law in December 1985. One important aspect is that all coins must be minted from only "newly mined domestic sources." Under the law, the gold ore that is refined and cast into planchets can only be sourced from domestic mines.
Since inception, the US Mint has delivered more than 22 million 1 oz gold eagle coins into the hands of investors. Demand for investment-grade bullion has risen steadily in recent years as gold is considered a proven store of value during periods of intense inflation and high interest rates.
Investment-Grade Gold Eagles
The Federal Reserve continues interest rate hikes as a way to lower inflation. High interest rates have a dampening effect on the economy and many of the ongoing social, political and financial indicators are impacting today's economy. Holding gold in an IRA provides some reassurance and stability during times of volatility.
Many view gold coins as a more secure option for investment opportunities over stocks, bonds, or other paper investments. An IRA backed by Gold gives you the opportunity to invest in a physical asset with a strong historic record as a store of value. The 2023 Gold American Eagle is IRA-approved and widely available from various online dealers.
---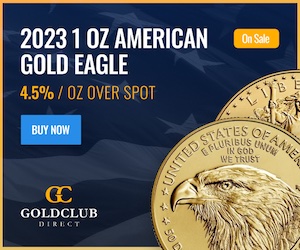 ---
2023 Gold Eagle 1 oz Coin Specifications
| | |
| --- | --- |
| Weight | 1 oz |
| Country | United States |
| Type | Sovereign Bullion |
| Mint | US Mint |
| Year | 2023 |
| Coins Series | American Eagle |
| Classification | Modern |
| Face Value | $50 USD |
| Coins Type | Sovereign Bullion |
| Purity | .9167 fineness |
| Diameter | 32.70 mm |
| Thickness | 2.87 mm |
| Edge | Reeded |
---
FindBullionPrices.com tracks prices from some of the most trusted and reputable online bullion dealers to help find the lowest prices on 2023 Gold Eagle 1 oz Coin.
The gold prices on our site for coins and bullion are updated hourly and adjusted with gold spot price. We give you the tools to compare prices of gold coins from well-reviewed bullion dealers.
Comparing prices for 2023 Gold Eagle 1 oz Coin across multiple bullion dealers is the best way to pay the lowest price.
Our Closest to Spot tool can help you find the lowest premium when you are ready to buy gold coins.
Shop other gold bullion and coins from United States.