In 1986 the United States Mint launched the American Eagle program. The American Gold Eagle and American Silver Eagle were established as the nations first and official bullion coins. In this first production year, the Silver Eagle enjoyed immense popularity that would lead to high demand the following year, as well.
The inaugural release of the American Silver Eagle coin was produced by the San Francisco Mint. The San Francisco mint struck both the BU and Proof Strikes of the coin. The San Francisco Mint would continue to mint both versions of the Silver Eagle coin until 1993 when proof coins shifted to the Philadelphia Mint. Bullion coin productions was shifted to the Philadelphia Mint in 1999.
The 1986 Silver Eagle was the first year the series was minted. It was also the first .999 fine silver bullion coin produced by the US Mint designed for investment. The mintage for 1986 American Silver Eagle coins was relatively high as was investor demand. The coin was released late in the year and was only sold for two months.
The mintage for BU Silver Eagles in 1986 was over  5 million coins.
It also marked the first year that Silver Eagle proofs were struck. American Silver Eagle proofs are marketed towards collectors. More than one-million proof Silver Eagle coins were solid in 1986.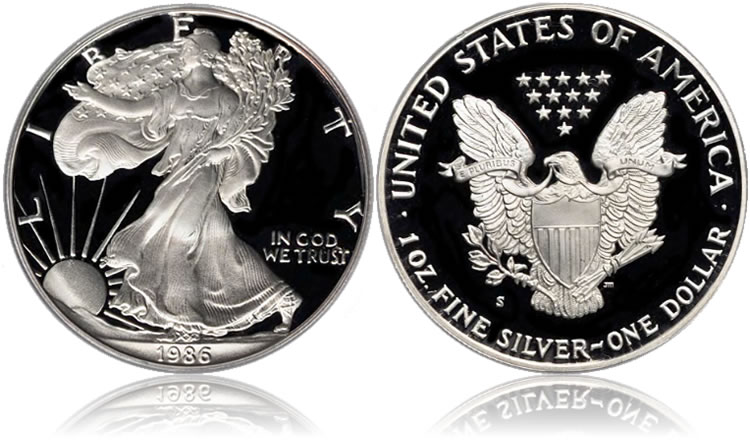 Coin Highlights:
1ST Mintage Year of the American Silver Eagle coin from the US Mint.
5,393,005 1986 Silver Eagle BU Coins Minted.
1,446,778 1986 Silver Eagle Proof Coins Minted.
Contains 1 oz of .999 pure silver.
Carries a face value of $1 (USD) and is backed by the US Government for purity, weight and quality.
Features the iconic Walking Liberty design on the obverse.
Includes a heraldic eagle design with shield and talons holding an olive branch and arrows.
S mint marks on the proof coins from the San Francisco Mint.
With a mintage of almost 1.5 million coins, the 1986 Silver Eagle Proof is the largest Proof Silver Eagle mintage to date.
The obverse is Adolph A. Weinmans Walking Liberty design from 1916, which was also featured on the Walking Liberty half-dollar coin. This is complemented with the reverse design of the heraldic eagle of the United States by then-Chief Engraver of the United States Mint, John Mercanti.