Quick Facts About Mexican Gold Pesos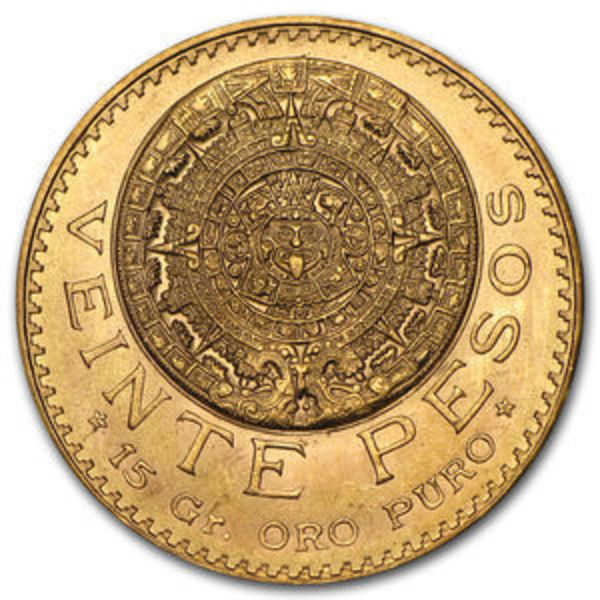 Gold Peso Specifications
Composition: 90% gold, 10% copper
Obverse: National Coat of Arms
Reverse: Winged Victory
Weight: 1.2057 troy ounces, 37.5 grams, one tael
Diameter: 37.08 mm, 1.46 inches
Thickness: 2.69 mm, 0.106 inches
Face Value: 50 pesos

Composition: 90% gold, 10% copper
Obverse: Golden eagle perched on a cactus with a snake in its beak
Reverse: "Veinte Pesos" surrounding the Cuauhxicalli Eagle Bowl Aztec Calendar or Sun Stone
Weight: .4823 troy ounces, 15 grams
Diameter: 27.5 mm, 1.08 inches
Thickness: 2.03 mm, 0.79 inches
Face Value: 20 pesos

Composition: 90% gold, 10% copper
Obverse: The national coat of arms of Mexico
Reverse: Miguel Hidalgo y Costilla, who started the Mexican Independence in September 1810
Weight: .2411 troy ounces, 7.5 grams
Diameter: 22.5 mm, .886 inches
Thickness: 1.4 mm, .055 inches
Face Value: 10 pesos

Composition: 90% gold, 10% copper
Obverse: The national coat of arms of Mexico
Reverse: Features "Cinco Pesos" surrounding Miguel Hidalgo y Costilla
Weight: .1205 troy ounces, 3.75 grams
Diameter: 19 mm, .748 inches
Thickness: 1.14 mm, .045 inches
Face Value: 5 pesos

Composition: 90% gold, 10% copper
Obverse: The national coat of arms of Mexico
Reverse: "Dos E Medio Pesos" surrounding a depiction of Miguel Hidalgo y Costilla
Weight: 0.0602 troy ounces, 1.87 grams
Diameter: 15.5 mm, .610 inches
Thickness: .86 mm, .034 inches
Face Value: 2.5 pesos

Composition: 90% gold, 10% copper
Obverse: The national coat of arms of Mexico
Reverse: "Dos Pesos" surrounded by a wreath with the date of issue at the top
Weight: 0.0482 troy ounces, 1.50 grams
Diameter: 13 mm, .512 inches
Thickness: 1.02 mm, .040 inches
Face Value: 2 pesos
1 oz Gold Eagle Mintages

| Year | Bullion |
| --- | --- |
| 1986 | 1,362,650 |
| 1987 | 1,045,500 |
| 1988 | 465,500 |
| 1989 | 415,790 |
| 1990 | 373,210 |
| 1991 | 243,100 |
| 1992 | 275,000 |
| 1993 | 480,192 |
| 1994 | 221,663 |
| 1995 | 200,636 |
| 1996 | 189,148 |
| 1997 | 664,508 |
| 1998 | 1,468,530 |
| 1999 | 1,505,026 |
| 2000 | 433,319 |
| 2001 | 143,605 |
| 2002 | 222,029 |
| 2003 | 416,032 |
| 2004 | 417,019 |
| 2005 | 356,555 |
| 2006 | 237,510 |
| 2007 | 140,016 |
| 2008 | 710,000 |
| 2009 | 1,493,000 |
| 2010 | 1,125,000 |
| 2011 | 857,000 |
| 2012 | 675,000 |
| 2013 | 758,500 |
| 2014 | 425,000 |
| 2015 | 626,500 |
| 2016 | 817,500 |
| 2017 | 228,500 |
| 2018 | 191,000 |
| 2019 | 108,000 |
| 2020 | 747,500 |
| 2021 | 1,115,500 |
| 2022 | 850,000 |
| 2023 | Not yet available |
Mexican Gold Pesos History & Facts
First minted in 1905, the Mexican Gold Peso coins commemorate the centennial of Mexico's hard won independence from Spanish colonial rule. The Mexican War for Independence lasted from 1810 to 1821. A Mexican-born Spaniard, Miguel Hidalgo y Costilla led other colonial-born Spaniards, along with Mestizos and Amerindians, in an uprising against the Spanish conquistadors. Although Hildago shortly following his initial revolt, the Mexicans were ultimately successful in ousting their oppressors, and on September 27, 1821, the Treaty of Cordoba was ratified, giving Mexico sovereignty from Spain.
In 1910, the Columna de la Independencia (the Statue of Independence) was erected in Mexico City's Paseo de Reforma, commemorating the start of the war. Atop a massive column is a figure of Winged Victory. This angel is made of bronze and plated in 24-karat gold. She holds a laurel crown, the symbol for victory, in her right hand. In the left, she clutches a broken chain that represents Freedom. At the base of the statue, a mausoleum hosts the remains of war heroes.
The Angel quickly developed as a symbol of national pride in Mexico, and it's image was chosen to adorn the Mexican Gold Peso. In 1921, the Mexican 50 gold peso was first minted. Each 50 Peso gold coin's reverse depicts Winged Victory in the foreground, with Mexico's volcanoes, Popocatepetl and Iztaccihauti, in the background. On the obverse, the original Mexican coat of arms was etched in crisp detail. The coat of arms features an eagle atop a cactus, devouring a serpent. p>
The national coat of arms is depicted on the obverse of other denominations of gold peso coins.
The reverse of the 20 Pesos Gold Coin has the words "Viente Pesos" (Twenty Pesos) surrounding the Aztec Calendar Sun Stone.
The reverse of the 10 Pesos Gold Coin, the 5 Pesos Gold Coin and the 2.5 Pesos Gold Coin all contain a portrait of revolutionary leader Miguel Hidalgo y Costilla. The reverse of these smaller denomination gold pesos also includes the denomination's face value surrounding the Hidalgo portrait.
The smallest of the gold pesos, the 2 Peso Gold Coin shows a Mexican celebratory wreath, along with the denomination and year of minting.
Low Premium Gold Bullion Coins
Mexican Gold Peso coins are a favorite amongst precious metals investors due to their low premium over gold spot price. Buying gold coins closest to spot price is the best way to preserve wealth and ideal for those looking to invest in gold coins.
Mexico Gold Peso Mintage and Coin Details
Size
Gold Content
Diameter
Thickness
Total Weight
Fineness
Minting Dates
1 - Has double "37.5 Gr Oro Puro" markings, leaving out the "50 pesos" legend.
2 - Centenario Pesos Restrikes all bearing the date 1947.
3 - Viente Pesos Restrikes all bearing the date 1959.
4 - Diaz Pesos Restrikes all bearing the date 1959.
5 - Cinco Pesos Restrikes all bearing the date 1955.
6 - Dos y Medio Pesos Restrikes all bearing the date 1945.
7 - Dos Pesos Restrikes all bearing the date 1945.

50 Peso
37.5 grams
37.08 mm
2.69 mm
41.67 grams
(1.3396 troy oz)
.900 (90% gold/10% copper) - 21.6 k
1921-1931, 19431, 1944-1947, 1949-19722, 19962, 2000-20092
20 Peso
15.00 grams
27.43 mm
2.03 mm
16.666 grams
(.536 troy oz)
.900 (90% gold/10% copper) - 21.6 k
1917-1921, 1959, 1960-19713
10 Peso
7.4995 grams
22.5 mm
1.4 mm
8.333 grams
(.2679 troy oz)
.900 (90% gold/10% copper) - 21.6 k
1905-08, 1910, 1916-17, 1919-20, 1959, 1961-724
5 Peso
3.7497 grams
19 mm
1.14 mm
4.1665 grams
(.1339 troy oz)
.900 (90% gold/10% copper) - 21.6 k
1905-07, 1910, 1918-20, 1955-725
2.5 Peso
1.8748 grams
15.5 mm
.86 mm
2.083 grams
(.0670 troy oz)
.900 (90% gold/10% copper) - 21.6 k
1919-20, 1944-48, 1951-726
2 Peso
1.50 grams
13 mm
1.02 mm
1.6666 grams
(.0536 troy oz)
.900 (90% gold/10% copper) - 21.6 k
1919-1920, 1944-1947, 1951-19727, 19967
How to buy the cheapest Mexican Gold Pesos
FindBullionPrices.com compares precious metals prices from trusted and reputable online bullion dealers to help you find the lowest prices on Mexican Gold Pesos. The prices on our site are updated hourly and adjusted for silver spot price. This gives you the tools to compare silver prices.
We find the best prices for the cheapest Mexican Gold Pesos when you're ready to buy.
You can find a large variety of silver coins at FindBullionPrices.com. If we don't list prices for something you're looking for Contact Us and let us know so we can add it.
Compare Mexican Gold Pesos prices
We compare prices of Mexican Gold Pesos from top-reviewed and trusted bullion dealers. Our product listings compare the online prices to help you buy the cheapest Mexican Gold Pesos.