The Gold Maple Leaf is updated annually and includes a variety of fractional weights, such as this tenth ounce .9999 gold coin. The maple leaf series is the best selling 99.99% pure gold coins in the world by far. The Royal Canadian Mint is one of the most technologically advanced mints.
The background is etched with radial lines that create a unique pattern that diffracts light. The precision engraving provides another level of anti-counterfeit protection.
2023 Gold Maple Leaf 1/10 oz Coin Highlights:
Contains one-tenth troy oz of .9999 pure gold in BU condition.
Face value of $5 (CAD) by Canada.
obverse: Effigy of Queen Elizabeth II.
reverse: Sugar maple leaf.
Laser-engraved privy on the reverse.
44th annual coin in the 1/10 oz Canadian Gold Maple Leaf Series.
The world's first .9999 pure gold bullion coin, the Royal Canadian Mint released the gold maple leaf coin in 1979.
The Gold Maple Leaf continues to be an annual best-seller with investors. The Gold Maple Leaf series is also available in 5 fractional sizes that include 1/2 oz, 1/4 oz, 1/10 oz, 1/20 oz and 1 gram.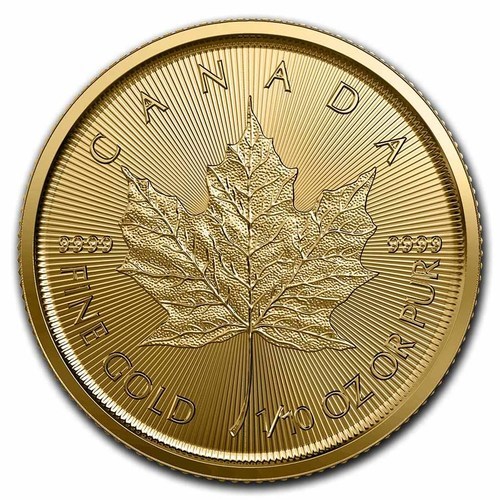 ---
2023 1/10 oz Canadian Gold Maple Leaf Specifications
| | |
| --- | --- |
| Weight | .10 oz |
| Country | Canada |
| Type | Gold Coin |
| Mint | Royal Canadian Mint |
| Year | 2023 |
| Face Value | $5 CAD |
| Purity | .9999 fineness |
| Diameter | 16 mm |
| Thickness | 1.22 mm |
| Edge | Reeded |
---
FindBullionPrices.com tracks prices from some of the most trusted and reputable online bullion dealers to help find the lowest prices on 2023 1/10 oz Canadian Gold Maple Leaf.
The gold prices on our site for coins and bullion are updated hourly and adjusted with gold spot price. We give you the tools to compare prices of gold coins from well-reviewed bullion dealers.
Comparing prices for 2023 1/10 oz Canadian Gold Maple Leaf across multiple bullion dealers is the best way to pay the lowest price.
Our Closest to Spot tool can help you find the lowest premium when you are ready to buy gold coins.
Shop other gold bullion and coins from Canada.