** Dealers offering Pre-Order: Anticipated ship date during second week of January
Introduced in 1986, the Gold Eagle is the official gold bullion coin of the United States. This coin features an obverse design based on Augustus Saint-Gaudens' full-length figure of Liberty with flowing hair, holding a torch in her right hand and an olive branch in her left. The U.S. Capitol building can be seen in the background, and the year of mintage is also displayed. Around the upper rim, "LIBERTY" is inscribed.
The reverse, designed by Jennie Norris and Renata Gordon, portrays the head of a male eagle being watchful, vigilante and observant. It's available in 1/10, 1/4, 1/2, and this 1-ounce denomination. The reverse also includes inscriptions that include the country, mottos and legal tender face value of $50.
The American 1 oz Gold Eagle is made of 22-karat gold or 91.67% gold. The remaining alloy consists of 3% silver and 5.33% copper, which adds durability to the coins, making them more resistant to scratching and marring. Similar alloys have been used for minted gold coins dating back hundreds of years.
2024 1 oz Gold Eagle Coin Highlights:
Minted with one troy ounce of .999 fine gold.
Issued in 22k, alloyed with minute amounts of silver and copper for durability.
Obverse: Walking Liberty Design.
Reverse: Vigilant eagle.
Eligible for Precious Metals IRA.
While the Gold Eagle is considered legal tender in the U.S. with nominal face values, the actual market value is based on its gold content and the current market price of gold.
The U.S. Mint produces both bullion and proof versions of the Gold Eagle. The bullion version is primarily intended for investors. The bullion coins are aimed at investors and must be bought through dealers and wholesale channels. Only the proof version and other collectible coins can be purchased direct through the US Mint. The proof gold eagle has a mirror-like finish that is primarily of interest to collectors.
The 1 oz American Gold Eagle coin is not only a popular investment vehicle for those looking to own gold but also a cherished item among numismatists and collectors, particularly for its iconic design and the history it represents.
---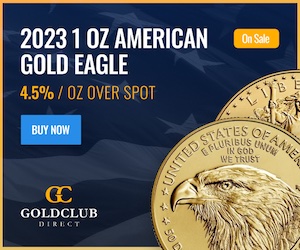 ---
2024 Gold Eagle 1 oz Coin Specifications
| | |
| --- | --- |
| Weight | 1 oz |
| Country | United States |
| Type | Sovereign Bullion |
| Mint | US Mint |
| Year | 2024 |
| Coins Series | American Eagle |
| Classification | Modern |
| Face Value | $50 USD |
| Coins Type | Sovereign Bullion |
| Purity | .9167 fineness |
| Diameter | 32.70 mm |
| Thickness | 2.87 mm |
| Edge | Reeded |
---
FindBullionPrices.com tracks prices from some of the most trusted and reputable online bullion dealers to help find the lowest prices on 2024 Gold Eagle 1 oz Coin.
The gold prices on our site for coins and bullion are updated hourly and adjusted with gold spot price. We give you the tools to compare prices of gold coins from well-reviewed bullion dealers.
Comparing prices for 2024 Gold Eagle 1 oz Coin across multiple bullion dealers is the best way to pay the lowest price.
Our Closest to Spot tool can help you find the lowest premium when you are ready to buy gold coins.
Shop other gold bullion and coins from United States.