The Morgan design that emblazened the silver dollar for 43 years is the inspiration for these 1 oz silver rounds.
The outer rim on both sides contains an interlocking reeded design that allows them to stack like poker chips.
The obverse contains the iconic bust profile portrait of lady liberty. The Latin phrase "E Pluribus Unum" wraps around the top of her head. An array of stars wraps the lower part of the design.
The reverse contains an eagle with outstretch wings. His talons grasping a bundle of arrows and an olive branch. The design includes the weight and silver purity,
Stackable 1 oz Silver Rounds Morgan Highlights:
Contains one troy ounce of .999 fine silver
Produced by a leading private mint.
Obverse: Inspired by the original design of the Morgan dollar coin.
Reverse: Includes the weight and .999 fine purity and mint hallmark.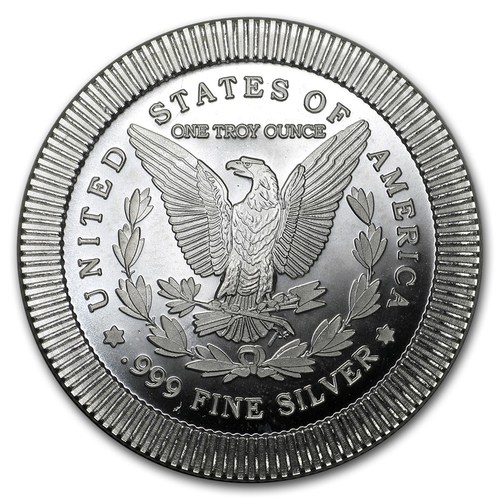 ---
Morgan Stackable 1 oz Silver Round Specifications
| | |
| --- | --- |
| Weight | 1 oz |
| Country | United States |
| Type | Silver Round |
| Mint | Various |
| Year | Various |
| Classification | Modern |
| Purity | .999 fineness |
| Diameter | 39 mm |
| Thickness | 2.9 mm |
---
FindBullionPrices.com tracks prices from some of the most trusted and reputable online bullion dealers to help find the lowest prices on Morgan Stackable 1 oz Silver Round .
The silver prices on our site for rounds and bullion are updated hourly and adjusted with silver spot price. We give you the tools to compare prices of silver rounds from well-reviewed bullion dealers.
Comparing prices for Morgan Stackable 1 oz Silver Round across multiple bullion dealers is the best way to pay the lowest price.
Our Closest to Spot tool can help you find the lowest premium when you are ready to buy silver rounds.
Shop other silver bullion and coins from United States.