1 oz Silver Round - British Icons JBR Recovery
JBR Recovery Ltd is a refiner based in Great Britain that specializes in recovering silver and other precious metals from the waste stream.
Precious metals are recovered from old cellphones, broken solar panels, used x-ray film and from other consumer and industrial products that use silver.
The recovered metals are refined into .999 fineness and minted into silver bars and rounds.
These 1 oz silver rounds feature icons of various notable symbols from british cultiure.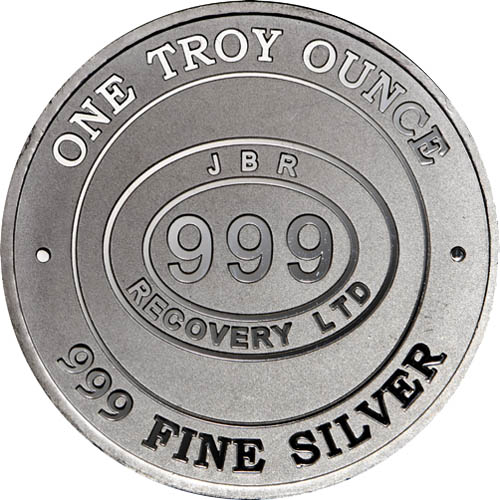 Icons of Brittain 1 oz Silver Round Details:
Minted with one troy ounce of .999 fine silver.
Obverse: Shows the JBR Recovery Ltd Logo, inscribed with the purity and weight.
Reverse: Numberous British cultural icons decorate the back with a reverse proof-like finish.
These Cultural Icons 1 oz Silver Rounds are minted from recycled consumer and industrial products help reduce the amount of waste that is produced from mining, refining and minting precious metals.
---
1 oz Silver Round - British Icons Specifications
| | |
| --- | --- |
| Weight | 1 oz |
| Country | Great Britain |
| Type | Silver Round |
| Mint | JBR Recovery LTD |
| Year | Various |
| Purity | .999 fineness |
| Diameter | 39 mm |
| Thickness | 2.9 mm |
---
FindBullionPrices.com tracks prices from some of the most trusted and reputable online bullion dealers to help find the lowest prices on 1 oz Silver Round - British Icons.
The silver prices on our site for rounds and bullion are updated hourly and adjusted with silver spot price. We give you the tools to compare prices of silver rounds from well-reviewed bullion dealers.
Comparing prices for 1 oz Silver Round - British Icons across multiple bullion dealers is the best way to pay the lowest price.
Our Closest to Spot tool can help you find the lowest premium when you are ready to buy silver rounds.
Shop other silver bullion and coins from Great Britain.