Unleash the Beast - Inflation is Coming Silver Rounds
Brace yourself, Inflation is Coming! is the theme of this 1 oz silver round series. The latest release in the series is titled Unleash the Beast.
The obverse of this private mint one troy ounce silver roung features a dragon with 3 heads. The faces of the dragon are replaced with those of Biden, Pelosi and Fauci, the reason behind the continued rampant inflation.
The reverse side includes inscriptions for the weight and purity of the round. As well as the primary inscription that reads "Paying Debts with the Printing Press" around the rim, with the center inscribed with "Inflation is Coming".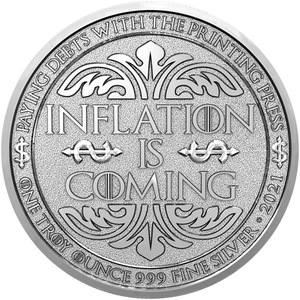 This unique, politically themed silver round was produced by Patriot Coins, a boutique private American based private mint that has quickly made a name for itself in quality precious metals with unique and memorable designs.
1 oz Silver Round - Inflation is Coming Details:
Minted with one troy ounce of .999 fine silver
Obverse: A massive three-headed beast that has the body and the wings of a dragon with sharp, dangerous claws, a curling tail and outstretched bat-like wings.
Reverse: Continuation of the front design theme and inscribed with the weight, purity and hallmark.
The design theme of this silver bullion coin mimics that of the Game of Thrones television series from HBO.
---
Inflation is Coming - 1 oz Silver Round Specifications
| | |
| --- | --- |
| Weight | 1 oz |
| Country | United States |
| Type | Silver Round |
| Mint | Patriot Coins |
| Year | Various |
| Classification | Modern |
| Purity | .999 fineness |
| Diameter | 39 mm |
| Thickness | 2.9 mm |
---
FindBullionPrices.com tracks prices from some of the most trusted and reputable online bullion dealers to help find the lowest prices on Inflation is Coming - 1 oz Silver Round.
The silver prices on our site for rounds and bullion are updated hourly and adjusted with silver spot price. We give you the tools to compare prices of silver rounds from well-reviewed bullion dealers.
Comparing prices for Inflation is Coming - 1 oz Silver Round across multiple bullion dealers is the best way to pay the lowest price.
Our Closest to Spot tool can help you find the lowest premium when you are ready to buy silver rounds.
Shop other silver bullion and coins from United States.