Reddit 1 oz Silver Round from Silvertowne Mint
Various subreddit forums are popular with investors that are enthusiastic and bullish about silver.
Silvertowne has responded with 1 oz silver round that pays homage to one of these subreddits that is used to promote investing in precious metals.
The obverse of these rounds portrays a reddit avatar of a fictional character called troy from the popular Wall Street Bets forum popular with online investors.
The reverse shows a rocket ship behind held back from taking off by the large hand of silverback ape wearing a suit.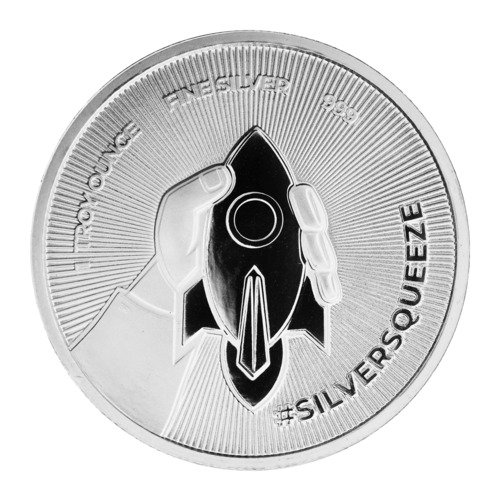 1 oz Silver Round #silversqueeze Info:
Minted in the US by Silvertowne Mint
Contains 1 troy ounce of .999 fine silver
Unique design and finished inspired by WallStreetBets and other popular Reddit forums
Unique combination of unique finishes on both sides
Available from many online bullion dealers
---
Reddit 1 oz Silver Round - This is the Way Specifications
| | |
| --- | --- |
| Weight | 1 oz |
| Country | United States |
| Type | Silver Round |
| Mint | SilverTowne |
| Year | Various |
| Rounds Series | Reddit |
| Purity | .999 fineness |
| Diameter | 39 mm |
| Thickness | 2.9 mm |
---
FindBullionPrices.com tracks prices from some of the most trusted and reputable online bullion dealers to help find the lowest prices on Reddit 1 oz Silver Round - This is the Way.
The silver prices on our site for rounds and bullion are updated hourly and adjusted with silver spot price. We give you the tools to compare prices of silver rounds from well-reviewed bullion dealers.
Comparing prices for Reddit 1 oz Silver Round - This is the Way across multiple bullion dealers is the best way to pay the lowest price.
Our Closest to Spot tool can help you find the lowest premium when you are ready to buy silver rounds.
Shop other silver bullion and coins from United States.