Many first time investors wonder where to buy the cheapest silver rounds online. Or they may ask which dealer has the lowest price on silver rounds.
The first response most experienced silver buyers recommend is to start buying up the Silver At Spot Price deals that are offered by some of the top dealers.
Buy Generic Silver Bullion Rounds
One of the most obvious ways to get the best price possible is to purchase products that carry the lowest premiums over spot price.
Silver Bullion is manufactured and minted in multiple forms including bullion bars, rounds, coins and collectible coins. Each of these products can, however, have some significant differences when it comes to overall premiums.
Silver Bars
Bullion bars that are at least 10 oz in weight will often carry the lowest premiums. This is primarily because much of the refining and manufacturing costs are easy to control. 10 oz Silver Bars are made in large quantities. The designs of most 10 oz silver bars often feature simpler designs when compared to coins or collectable rounds.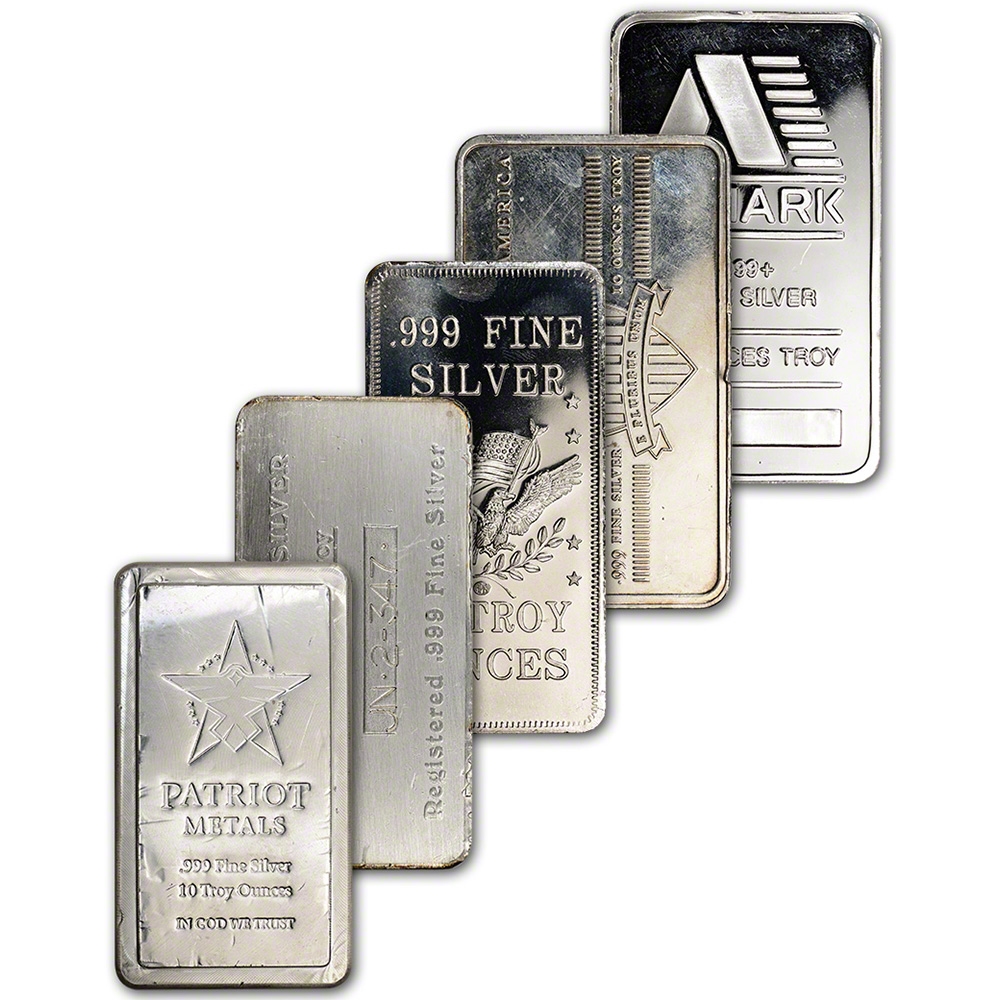 There are primarily two very different styles of bullion bars that are readily available from most online bullion dealers; minted bars and cast bars.
While both may offer a significant per-ounce savings compared to coins or rounds, cast bars may offer an even lower premium than minted bars.
Second to 10 oz bullion bars, silver rounds are the next most cost effective way to buy silver.
Silver Rounds
Rounds are not considered legal tender, have no face value and are not guaranteed or backed by a sovereign government. Silver Rounds are valued simply for the intrinsic value in their metal content.
Some rounds may have premiums comparable to bullion bars, while others could be slightly higher on a per-ounce basis.
When buying silver bullion rounds, the cheapest silver rounds will often be labeled as generic silver rounds or secondary market silver rounds.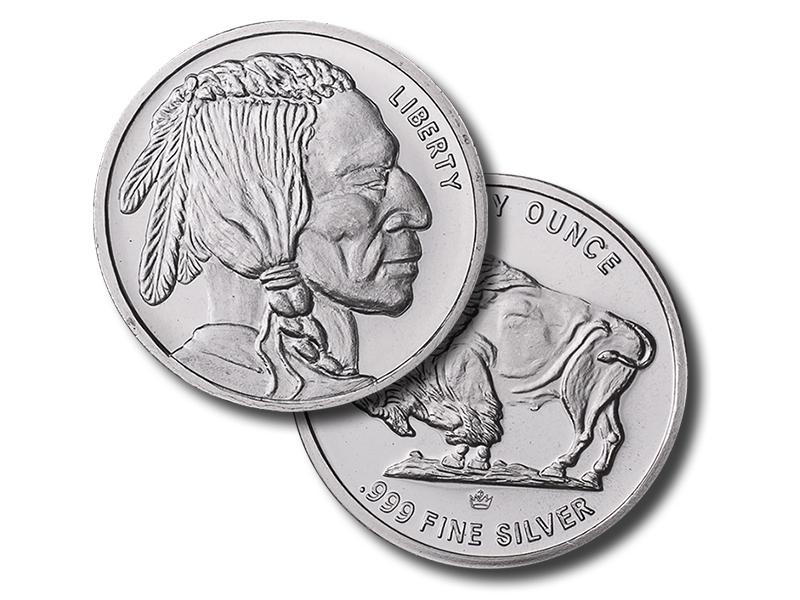 Generic Silver rounds will often have simple designs. The most common generic rounds may include designs based on James Earle Fraser's buffalo nickel, which features a standing buffalo on one side and an Indian head on the other. Generic silver rounds of this style are manufactured by virtually every private mint and are often some of the lowest priced silver rounds sold by dealers.
Secondary market silver rounds can be virtually anything that the dealer's have in stock. In most cases, secondary market silver rounds have been bought over the counter from investors that are liquidating their precious metals investment. Dealer's will buy these in bulk, often times at a discount below spot price. As a result, the premiums on secondary market silver rounds will typically be lower than all other silver rounds. Their condition may vary from dealer to dealer, some may be scratched or tarnished. Secondary market silver rounds will often be the cheapest silver rounds that dealers sell.
Silver Bullion Coins
Bullion coins, which are good, legal tender, most often will carry significantly higher premiums compared to bars or rounds. This can be due to the coin's monetary value, that coin's often feature very intricate design work, and that they are guaranteed and backed by a sovereign government.
Examples of bullion coins include American Silver Eagles, Canadian Silver Maple Leaf coins, Britannia Silver Coins from the United Kingdom and the Libertad from Mexico.
For those interested in paying the lowest premiums, bullion coins are often avoided. Even though in some cases bullion coins will retain some of their premium over spot price, the premium is typically much lower than the cost to purchase.
Buying bullion bars and rounds offers the lowest per-ounce premiums and is one of the most ideal ways to build a big precious metals portfolio or collection.
Buy Cheap Silver Rounds In Bulk
Another simple method of getting the best price is to buy silver bullion in bulk when possible. Buying silver bullion in larger quantities enables you to pay lower premiums than you would if you were buying just a few ounces at a time.  Larger weight bars, such as 100 oz silver bars, for example, carry lower total per-ounce premiums compared to smaller weight bars.
Coins and rounds can also be purchased in bulk. Most dealers offer some significant per-ounce discounts based on the quantity purchased. Most online bullion dealers provide multiple pricing tiers.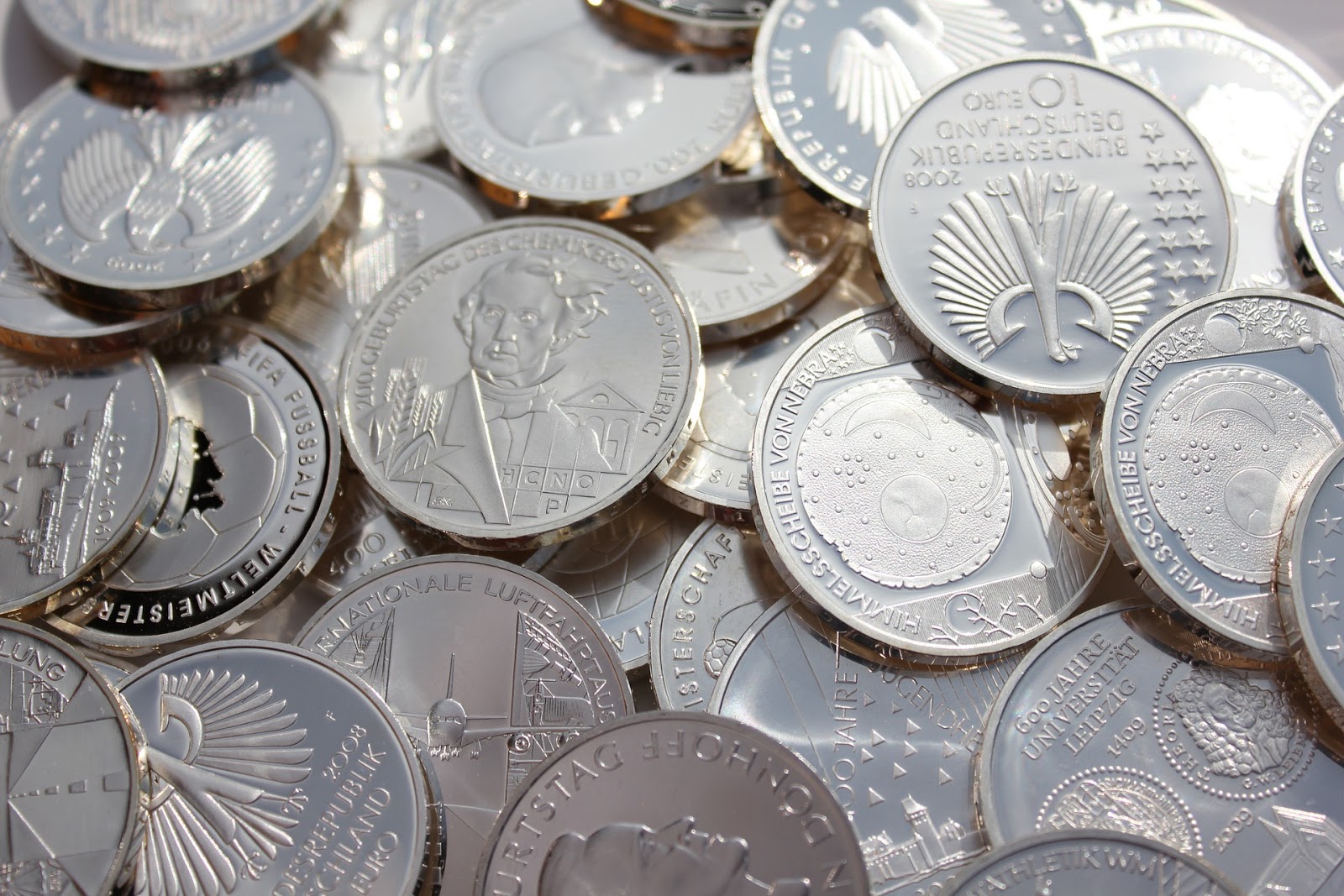 For a given product, a dealer may set a certain price point for those buying 1-9 rounds, a slightly lower price for 10-19 rounds, and yet an even lower price for 20 rounds or more. The quantity and pricing tiers vary from dealer to dealer and sometimes from product to product. Buying coins or rounds in mint tubes or monster boxes can offer a significant savings.
Compare Cheapest Silver Rounds Prices from Multiple Dealers
Silver bullion is a commodity. Most online bullion dealers all carry many of the same exact products. However, the price of a given product could be significantly higher from one dealer to the next.
This is why it is important to compare prices of the products you are looking to buy.
FindBullionPrices.com compares prices of over 400 Silver, Gold and Platinum bullion products across dozens of online bullion dealers. Use FindBullionPrices.com to find the best prices on silver rounds so you can buy with the best premiums possible.
Shipping and handling costs can be a factor in getting the lowest overall premiums for your investment. Many online bullion dealers will include free shipping with a minimum purchase. The free shipping requirements vary from dealer to dealer. Their are many dealers that include free shipping with a minimum $99 purchase.
Payment Methods – Check/Wire, Credit Card, PayPal, BitCoin
Another way to save on the dealer premiums is to choose a payment method that will not include additional surcharges.
Online bullion dealers charge roughly a 4% fee for payments via Credit Card or PayPal. This is due to the transaction costs from the merchant provider that are passed through to the dealers. The dealers pass this cost through to the end buyer.
Technically, they get around this by offering a cash discount price for those wishing to pay via Check, e-Check or Wire Transfer.
Many dealers accept BitCoin for payment now. As a result, some dealers offer an addition discount tier when payment with cryptocurrencies.
However, to get the best prices, stick with checks, wire transfers and e-checks.